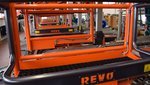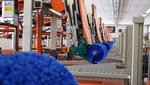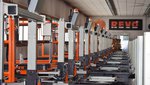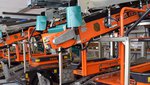 REVO had its inception in 2004; created by the children of farmers who were particularly aware of the need to mechanise tiring manual work. This background provided the impetus which has driven us to create ground breaking and innovative solutions. We started out as a small family business, and continue to transform ourselves into the thriving industrial reality which we now proudly present worldwide.
Born in the centre of the Valle di Non, a land recognised worldwide for the production of the Golden Delicious apple, with its 7000 geographically demanding hectares, and cultivated by over 4000 agricultural families. The close daily contact and continuous exchange of technical challenges that this land presents has been a driving force in our search for innovative systems. We believe that we have created the best solutions for farmers on a global level.
Now, thanks to the close collaboration and continuous contact with customers from different continents, our products are constantly evolving, which has led us to develop a range of multifunctional machines.
Our flagship product is certainly our fruit harvesting conveyor, which has obtained the European patent for its unique construction. Built in a single section, it allows the fruit to be moved from the tree to the bin without intermediate steps, while rigorously safeguarding the quality.
Our greatest satisfaction, however, comes from our customers. We're privileged to have developed a worldwide connection with farmers who are our constant collaborators and best cheer squad, which fuels great pride in our work.